'Bound' Gifs - These are all Kahlan/Cara. A couple are maybe nsfw...

OMG NECK.


OMG CARA WITH THE NECK. MMM CARA NECK.



'...Whose lap is this? Oh, it's my girlfriend. That's okay then.'



And this is probably my favourite little moment of the episode. Cara coming to the rescue!



WARNING: UPCOMING CRACK. MAYBE NSFW. CHILDISHNESS. You have been warned.

Watching the above gif on repeat can give you certain ~feelings. Which is what led to these: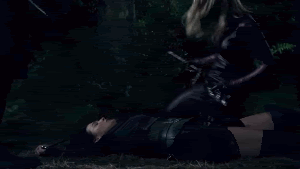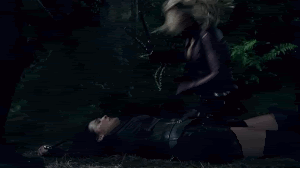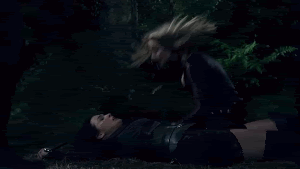 I'm very, very sorry. Only not really. Uhhh... Blame
thief21?
If you want more gifs - including non-Cara/Kahlan ones! - there's some totes awesome ones HERE by
reallyally and more HERE by
carpenyx :D

Behind the Scenes Gifs - I am totally in love with this video here (warning! mild spoilers for 2x17) and, well, I needed that knife-flipping moment to keep for myself forever.




Oh I can't wait to see these moves for real!




Does anyone know who this stuntperson is? I sort of love her.




You know how it is. You're beating some idiot to a pulp and then a random woman comes along and plucks you out of the air with her fingertips. Typical.




Feel free to take/hotlink/spam/elope with these :)
Also, the Seeker-Fandom Lovefest was AMAZING! I love you all :D (Especially the maker of #73 ♥)
So, maybe I have some sort of affliction? Seekeritis? Seekerphilia? Seekerholicism? Something terrible, certainly. I spent all day today making these. I've never made gifs before and the learning curve, it was steep. Pretty sure I'm still getting it wrong, so if there's a problem let me know!
Current Mood:

creative

Current Music:

Anything by Snow Patrol